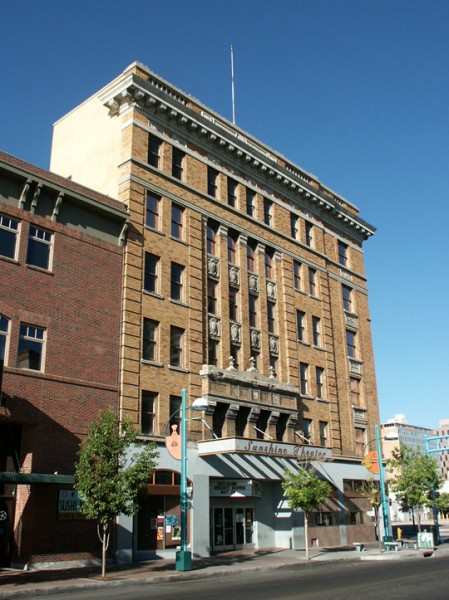 The Building
The Sunshine Building is an historic building in downtown Albuquerque, New Mexico, located at the intersection of Central Avenue and Second Street. The six-story building was designed by the El Paso firm of Trost & Trost and built in 1924, originally housing offices and a 920-seat movie theater. It is of reinforced concrete construction, with a facade of yellow brick.
The Sunshine Building was added to the National Register of Historic Places in 1985 and has been designated as a Historic Landmark by the city.
Sunshine Theater
The Sunshine Theater, which occupies a significant portion of the building, was Albuquerque's first movie palace. The first film shown there was Scaramouche, starring Ramón Novarro and accompanied by a special orchestra for the occasion. The theater stopped showing first-run movies in 1974 and closed completely in the 1980s, but has since been remodeled into a popular live music venue. The Sunshine Theater has hosted a number of notable acts such as The Strokes, Snoop Dogg, Stone Temple Pilots, The Smashing Pumpkins, Modest Mouse, Rancid, Coheed and Cambria, Social Distortion, Deftones, and Deadmau5 among others.